ALLIANCE ATTORNEY UNCOVERS HIDDEN EDISON LETTERS…ROCKS CPUC HEARINGS ON SAN ONOFRE
video courtesy of: 
EON  
The Ecological Options Network
THE LATEST ON SAN ONOFRE–Rochelle Becker
on KPBS as hearings on San Onofre set to begin:
Rochelle Becker appears on KPBS…
Alliance Executive Director Rochelle Becker was interviewed for KPBS-TV (San Diego) to discuss the economic pitfalls of nuclear power now facing ratepayers in California:
AND…
Download the A4NR fact sheet for a quick summary of the points made in Rochelle Becker's video…
Introducing SB 418….
Senator Hannah-Beth Jackson authors SB418–Fiscal Transparency for Nuclear Power Relicensing–sponsored by A4NR…Read all about it:
A year without San Onofre….
It's been a year now since defective, expensive and brand-new steam generators failed at the San Onofre nuclear plant, leaving California regulators scrambling to figure out not only how to keep the lights on, but who should pay for this $700 million fiasco.
A4NR weighs in with the anniversary op-ed in the San Diego Union Tribune   R

EAD IT ALL:
PG&E did what?
As the second anniversary of the Fukushima nuclear disaster approaches, PG&E is still playing fast and loose with facts about the seismic safety issues at Diablo Canyon.  Read more here in this guest editorial in
California Current

by Rochelle  Becker and John Geesman:
Does the Nuclear Regulatory Commission really know what is or isn't "seismically safe" at Diablo Canyon….watch this video and decide….
"Is it safe?…."
San Luis Obispo residents question NRC on Shoreline Fault report at Open House meeting….see the video here:
Alliance reviews latest NRC report on Shoreline fault…Fed Agency plays fast and loose with science to back its hasty conclusions…. Read A4NR's response and analysis
"A Fault-y Report…."
FISH AND CESIUM DON'T MIX…. 
Whether it is ongoing contamination of seafood, the devastation of the fishing industry, drastic clean up plans or overall impacts to the marine environment, the marine consequences of the nuclear disaster at Fukushima continue:
California Can't Afford Nuclear Power…and our state doesn't have a plan to deal with this!
Rochelle Becker and John Geesman spoke to the Sustainability Alliance of Southern California.  They explain how regulators have failed the public and offer suggestions for creating an energy "PLAN B" for a future without nuclear power.
READ THE OP-ED BY ROCHELLE BECKER IN THE SAN DIEGO UNION TRIBUNE:
THE LOS ANGELES TIMES AGREES: READ THEIR EDITORIAL HERE:
"THE COMMISSION WILL BE IN ORDER…"
ALLIANCE PRESENTS CASE BEFORE CALIFORNIA PUBLIC UTILITIES COMMISSION: SEISMIC STUDIES AT DIABLO CANYON–DOES PG&E EVEN KNOW WHAT IT IS LOOKING FOR AND HOW MUCH WILL IT REALLY COST?
Pressing questions were raised by Alliance attorney John Geesman during a tense day of hearings. 
HEAR ATTORNEY JOHN GEESMAN DISCUSS THE CASE ON KQED RADIO'S CALIFORNIA REPORT….
Read about it in BLOOMBERG BUSINESSWEEK:
ALLIANCE QUESTIONS NRC CHAIRMAN GREGORY JACZKO AT SAN ONOFRE….The Alliance for Nuclear Responsibility had a meeting with the NRC Chairman last Friday after his tour of the disabled San Onofre Nuclear Plant.

The NRC approved of the replacement equipment at SONGS, and now they don't work. But the Chairman can't answer our pressing question: WHO WILL PAY FOR THE FIASCO AT SAN ONOFRE??
"Not one more penny for replacement steam generators. Not one penny for fixing them. Not one more penny for replacement power," Rochelle Becker, Executive Director of the Alliance told the North County Times.
READ FULL PRESS COVERAGE OF THE ALLIANCE HERE:
Fukushima remembered...
read the editorials of the ALLIANCE on this anniversary:
Fukushima prevented…
send an action letter NOW!
BREAKING NEWS:
Alliance Wins Round One in Case For $64 Million Seismic Studies at Diablo Canyon

PG&E filed a motion to "strike" the testimony of the Alliance's witness, Dr. Douglas Hamilton, claiming it was "irrelevant" and outside the scope of the Commission's jurisdiction.  The Alliance's attorney John Geesman made a brief and eloquent defense of our case and the judge agreed, DISMISSING PG&E's motion to strike.  The case is ON and Judge Barnett set hearings for April 18-20 at the CPUC in San Francisco. 
Alliance at the CPUC on February 23….Outreach Coordinator David Weisman, left; Executive Director Rochelle Becker, center; Attorney John Geesman, right
READ COVERAGE IN THE NEW TIMES:
Alliance files Testimony in PG&E case for seismic studies. The $64 Million question… Is PG&E even looking in the right places and how is the CPUC to know?
Press release:
SCE SINGS THE BLUES SONG AT SONGS….
Ongoing saga of failing steam generator tubes at San Onofre reactors–Senator Boxer demands enhanced investigation:
http://www.ocregister.com/articles/steam-339452-tubes-plant.html
ALLIANCE VICTORY AT PUBLIC UTILITIES COMMISSION–
JUDGE REJECTS PG&E's FUNDING FOR LICENSE RENEWAL !
 Read the Alliance press release:
READ THE LATEST NEWS COVERAGE HERE:
and
What IF California lost its nuclear power plants? Does the state have a "Plan B" to deal with this? Read the probing essay by energy policy expert John Geesman here:
* * * * * * * * * *


Once Through Cooling (OTC) at Nuclear Power Plants??  California must decide!
The State Water Board must decide how to regulate the use of Once-Through-Cooling  (OTC) at California's nuclear power plants.  These reactors suck ONE BILLION gallons of ocean water per day through the heat exchangers, causing damage to the marine environment.  By 2015, the state must decide if alternative cooling methods are possible to continue operating the plants.  A draft plan for hiring consultants to do the studies needed is in the works, and the Alliance's executive director, Rochelle Becker, was appointed on the oversight committee. To learn more about the effects of once through cooling, watch this 5 minute video clip from the Alliance's documentary film featuring Dave Lochbaum of the Union of Concerned Scientists and Stanford attorney Deborah Sivas:
NRC held public meeting on Waste Storage in San Luis Obispo on October 6, 2011
The NRC held one of only three national meetings to get public input on plans for the environmental impact report for the revised Waste Confidence Decision.  What issues and concerns arise with a plan to store waste on site for at least 60 years and possibly 300? The Alliance spoke at the well attended meeting.  Read our comments here:
ALSO ATTENDING THE MEETING WAS ALLIANCE BOARD MEMBER DR. SAM CASALINA,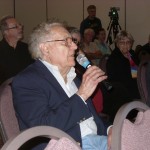 ASKING THE NRC TECHNICAL QUESTIONS…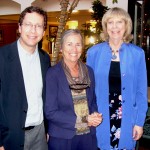 ALLIANCE BOARD MEMBER FROM SAN CLEMENTE, JUDY JONES (right) WITH ALLIANCE EXECUTIVE DIRECTOR ROCHELLE BECKER AND OUTREACH COORDINATOR DAVID WEISMAN (left), AT THE NRC MEETING
* * * * * * * *

What can the state of California do to protect itself from aging reactors in dangerous seismic areas?
Watch A4NR's Rochelle Becker explain our state's rights in this clip from a new,  multi-media investigation by journalist Sam Osborn!
In his new report, "Under the Influence–The Nuclear Landscape," Journalist Sam Osborn of the USC Annenberg School of Communications has created an interactive investigative report on the influence of money and lobbying to forward the nuclear power industry agenda. He puts a special focus on the aftermath of the Fukushima nuclear disaster and its consequences in seismically active California.  
Read and watch the full report at:
* * * * * * * * 
NATIONWIDE PBS T.V. PROGRAM PROFILES SEISMIC PROBLEMS AT DIABLO CANYON !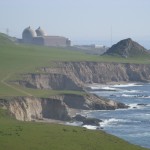 "DOUBLE FAULT AT DIABLO" featured on
NEED TO KNOW

 on PBS
In a joint investigation with the Center for Investigative Reporting and Capital Public Radio, NEED TO KNOW  brings you this Watch List report.  See State Senator Dr. Sam Blakeslee, US Geological Survey Geologist Dr. Jeanne Hardebeck and California Energy Commissioner James Boyd discuss the troubling new seismic concerns at Diablo Canyon nuclear plant.  This well researched story packs a lot of information into 20 minutes!  Click the link below to watch the entire program:
 * * * * * * * * * * *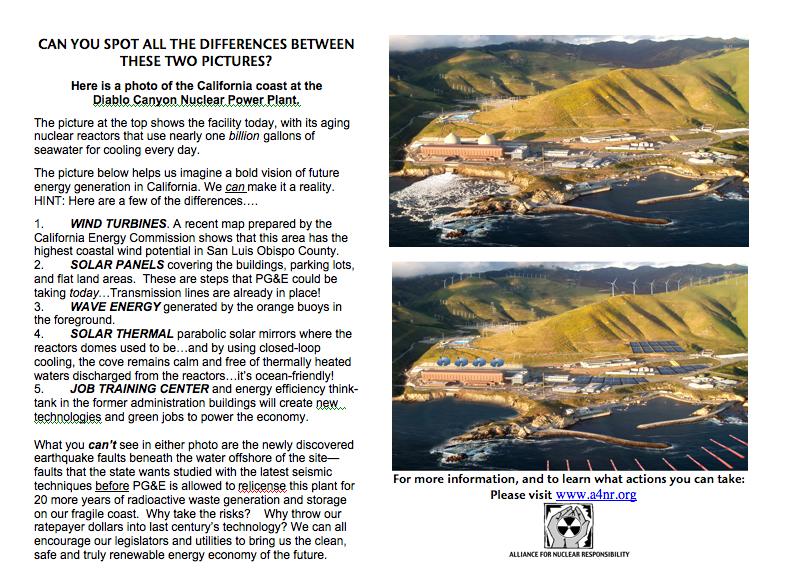 Share on Facebook