New Book from the Alliance's David Weisman Now Available!!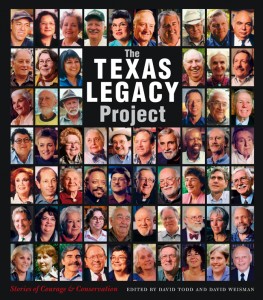 Alliance outreach consultant David Weisman's
new book, THE TEXAS LEGACY PROJECT
(Texas A&M University Press) is now available!
Our own local "champion," David Weisman, has released a book relating the stories of those who have fought to protect their precious land in Texas—not an easy task! Included in the book's 64 profiles in courage, are some who have direct links to the central coast:
SMITTY SMITH, alternative energy guru who spoke at our local "Smart Energy Solutions" conference in SLO a couple of years ago;
DIANE WILSON, super-activist and co-founder of Code Pink, who has wowed the crowds in our county numerous times since David first interviewed her in 2003;
JESSE GRANTHAM, an ornithologist, now does condor restoration for US Fish and Wildlife based in Ojai—and was featured in a New Times cover story last year
The book is a "who's who" of activism, and readers will find both insights and strategies that can be adapted to our stories and situations here in California. But don't take it from me, here is what others had to say about the book:
"No student should graduate from a Texas high school without reading this book…or even memorizing it." Bill Moyers
"I've never seen such an engrossing cavalcade of those rare, self-motivated people who are the sturdy pillars of a striving democratic society…A great jolting gift for the disillusioned, the deprived and the easily deterred." Ralph Nader
"In a state where most of the wildlands are fenced in or marked with signs that say, "Keep Out," the Texas Legacy Project reminds us not only what is at stake but why 'the open space of democracy' matters to the souls of all Americans." Terry Tempest Williams
MORE REVIEWS CAN BE FOUND A THE FOLLOWING LINKS:
http://blogs.chron.com/bookish/2010/10/a_texas_legacy_1.html
http://www.sacurrent.com/arts/story.asp?id=71543
THE HOME PAGE FOR THE BOOK IS:
www.texaslegacy.org/bb/book.html
A signed copy of the book can be ordered from David at 805-704-1810 or email to david@a4nr.org. Let David know if you'd like one, because they are selling like hotcakes and he has to order copies direct from the publisher. I hope you'll enjoy this book and David's fine work as much as I have!
In peace,
Rochelle Becker,
Executive Director