Dave Lochbaum and new book on Fukushima disaster in San Luis Obispo
Dave Lochbaum, director of the nuclear safety project at the Union of Concerned Scientists, visited San Luis Obispo, CA to discuss his new book, Fukushima, The Story of A Nuclear Disaster (co-authored by Edward Lyman and Susan Stranahan). Here is a videotape of his presentation to the standing room crowd at the Steynberg Gallery, March 31, 2014:
video courtesy of Matthew Wedin
Here are some still photographs from the event–
Dave Lochbaum, UCS (L)  and David Weisman, A4NR (R):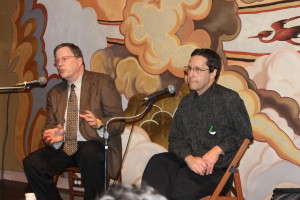 Photo by Molly Johnson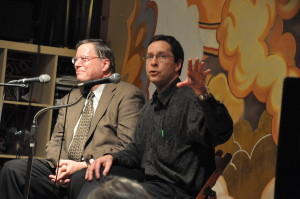 Photo by Michael Raphael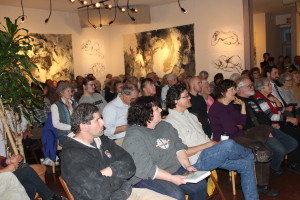 Photo by Molly Johnson
Dave Lochbaum then traveled to San Francisco with Alliance for Nuclear Responsibility leaders to meet with various members of California state regulatory oversight agencies, including the Public Utilities Commission, the Coastal Commission and the Energy Commission.  
After also speaking at the Commonwealth Club in San Francisco, Mr. Lochbaum (back, left) joined A4NR Executive Director Rochelle Becker (center) and outreach Coordinator David Weisman (right) for dinner with A4NR seismic consultant Dr. Douglas Hamilton (seated, left) and A4NR attorney John Geesman (seated, right).